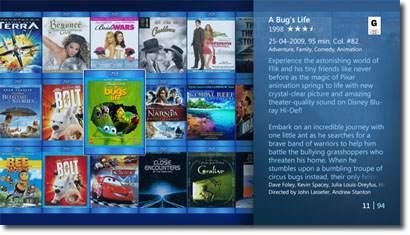 My Movies has been updated to version 4.02 PR6. The new version includes fixes and other minor changes:
My Movies for Windows Media Center and My Movies Collection Management 4.02 Pre Release 6

Added: Option to debug playback by adding DWORD "PlayBackDebug" in HKLM\Software\My Movies and setting it to 1.
Added: "certification" node to NFO XML for YAMJ
Added: TV Series are now synchronized to and from the webserver.
Added: Only added/deleted/changed titles are updated on database sync.
Changed: Series search now uses language search on server.
Changed: Folder monitoring now checks if titles on UNC paths that no longer exists have the above folder existing, and if so, removes the title, where it previously was kept.
Fix: Dune index was broken due to some changes in Windows Home Server part.
Fix: Connection was not closed, causing load of TV Episodes to be slow.
Fix: Playlist files played as audio rather than video.
Fix: Background graphics for watched/unwatched count did not disappear on TV Series when last show was watched or unwatched.
Fix: Unidentified disc dialog could come up when it should not.
Fix: Watched changes on from a season did not update all seasons or visa versa.
Fix: Reverting fix to help proper stop, as it gave problems.