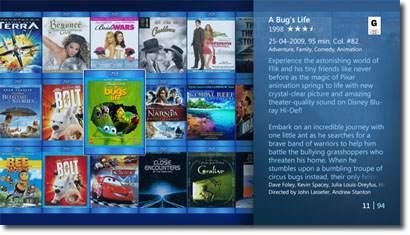 My Movies the ever popular addin for Windows Media Center has been updated to version 3.17 today. The new version has some new features and some many bug fixes. Details from the changelog and you can download the app from MyMovies.dk
My Movies for Windows Media Center and My Movies Collection Management 3.17

Added: Background code for remote functionality
Added: Mede8er meta-data storage
Added: Option to install and/or update AnyDVD when copying discs in CM.
Added: Edit personal information option, with lent to function, personal titles and other things.
Added: Check to ensure Dune structure updates can't run on top of each other.

Update: iPhone Export package updated for Pro version 1.1.
Update: Dune interface improved.
Update: TViX interface improved.

Fix: HDI Dune issue if some covers were not found.
Fix: HDI Dune generate error when connected to WHS.
Fix: Issue with disc type not being imported from DVD Profiler
Fix: Vista background add-in could fail.

Change: Improvements to MediaInfo reading.
Change: Changes to some icons, fonts and dialogs in CM.
Change: Better message to what goes wrong when Dune index fails to create.